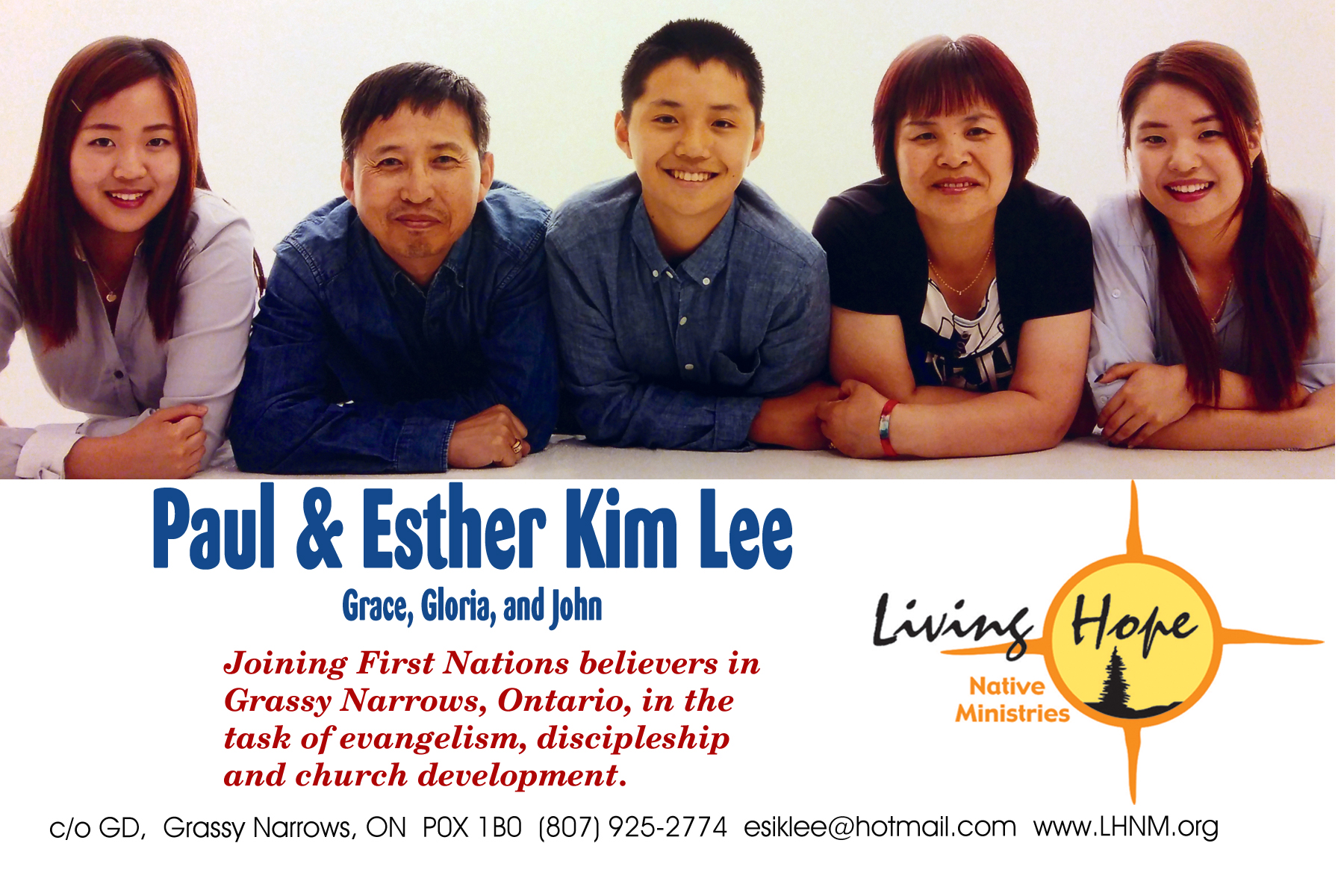 April 2019
This semester is almost coming to an end and am excited to go home for the summer. My sister has been busy studying for her finals since she has 5 exams this semester. As for John, he has been accepted to university of Toronto and Waterloo. But he is still waiting to hear from the Royal Military College (RMC) and I ask that you guys continue to keep him in your prayers about this.

This year, unfortunately, I won't be working at the school in Grassy Narrows having to be in Winnipeg for the summer for both my research and a summer course that I will be taking. But whenever I'm not busy, I hope to visit as much as I can during the summer to help out with my family's ministry at Grassy Narrows.

As for our summer plans, we have 2 confirmed teams, one from Missouri and one new Korean church from Toronto area, which we are excited for that. A team from Boston and another church team from Toronto is still waiting to be confirmed.

The weather here is starting to warm up but we still have the occasional snows here and there. My dad and mom are also both doing well. The church in Grassy Narrows has been good. I know that they still have few children attending church weekly on Sundays, which is good.

Please continue to pray for me and my family at Grassy Narrows. I am also currently in need of finding a summer job to save some money for another year of school, but it seems to be harder finding a job in the city than at Grassy Narrows/Kenora area. But as always, thank you, your family and your chruch for your continual support and prayers.
Blessings,
Grace
February 2019
Here is a bit of an update on our end. John had recently went to Trenton, ON to do some military training for the Royal Military College and it went well. He is in his last semester of Highschool and is awaiting for university admissions. My mom recently had shingles, which she is not taking medications for, and she has high blood pressure, as well as have wrist pain from all the cooking and doing dishes at home and also for church. Please keep her in your prayers and for healing and recovery. As for my dad, he is doing well in terms of health other than exhaustion of being always on the go with driving my brother to school, Morning Prayer meeting, and Bible study, etc. Please keep them all in your prayers.
My sister and I had a good fall semester and ended it well. My sister is learning new things this semester, taking some business, economics, and few science courses. As for me, i'm not taking any courses this term, but have been starting my thesis write-up and research. Continue to pray for us with our studies as well.
As for things in Grassy Narrows, I don't know if I mentioned this, but ever since the payout for mercury poisoning, many of our community members have been drinking more and relying on chemical substances, sexual immorality and have been gambling a lot more. Especially towards the end of last year and beginning of this new year. It was to the point where few of our church members were going back to their worldly lifestyle. There are even an increase in number of children who have been doing marijuana and had been having some dark thoughts lately, putting them in depression.
On the bright side, things are starting to turn around now where people who haven't been attending for a while are starting to come back and attend again. Also, a few weeks back, we even had 80 people show up for service that our church was really packed with people.

I pray that your family and church is all well. Thank you all for your support, prayers, and donations. It's through brothers and sisters like your church who encourages and helps us to continue to do God's work. Please, also pray for my family with our ministry here, for our health, and for strength and guidance that we won't be discouraged.
As always, thank you all again for your continual support and prayers. We really appreciate it.
Blessings,
JuHae (Grace) Lee
July 2018, note from Grace:
Good news, my parents and I had officially received our permanent residency! We received a mail couple of weeks ago confirming this and had our final interview on Wednesday with the immigration office and now am waiting to get our permanent residence (PR) Card! Thank you and your church for all of your prayers for this matter and for our family in general. We always greatly appreciate your prayers and support.
As for the update, we currently have the mission team from Missouri here this week to do VBS with our community children, which had been keeping us pretty busy. God has been good with sending about 25 kids to VBS every day this week. We are expected to have two more mission teams this summer, one from Boston from the States and a team from Mississauga, ON. Please keep us in your prayers in regards to this.
Summer time is usually the time of season where we tend to have the lowest attendance for church on Sundays. Many people are either away or have been drinking. Please continue to pray for our community and the people of Grassy Narrows as well as for my family and our ministry here.
Once again, thank you and your church for your prayers and support.
Blessings,
JuHae (Grace) Lee
December 2017, note from Grace Lee:
Updates: My sister had been approved for her permanent residency late last week, so that is good news for us. She just has to get her form signed by an immigration worker and she will have her permanent residence card. As for my parents and I, we still have about a year to get our application processed so please continue to pray for us in regards to this.
My parents from Grassy says hi as well and would appreciate prayers for the community. Despite my absence, kids had been attending church on Sundays, which is good news, and lots of people had been attending lately. Especially not the usual people who don't normally attend. Please pray that God will move their hearts and that they will discover Christ. Please pray for the youths and children, as many are drinking and doing drugs in our community lately. Please pray for healing and for change.
I am busy lately due to all the final exams, assignments and paper deadlines coming up with 3 weeks of school left. Please pray for me that I will finish this semester well and for my health both mentally and physically.
As for my parents, they still do their Morning Prayer meeting every morning at 6 AM from Monday to Saturday. They have Bible studies once a week as well. My mom still prepares the meals after church on Sundays, plays the piano and now also do Sunday school, but my brother tries to help her with that so that she's not doing everything alone. My dad is still driving John to school and back every day (he has one more year left, as John will be going into Grade 12 next Fall.
With the mercury situation, they had David Suzuki up at Grassy in June and had proposed plans for a clean-up in the area (from the CBC radio people showing up to the reserve and hearing things from the radio).
Thank you and your church for your prayers and for your encouragement.
Blessings,
Grace
The Lees, Grassy Narrows Reserve
January 2016
It¡¯s the start of the New Year. Due to your support and prayers from your church, we were able to spend the year of 2015 well. But the year of 2015 was also a time of many hardships for us for many reasons. One of the reasons was about my eldest daughter and both of mine and my wife¡¯s visa renewal situation. This situation is still currently not resolved, so please keep us in your prayers in regards to this.
As for our church, due to everyone¡¯s prayers and support, we are seeing some stability and changes. We are slowly seeing people overcoming their addictions to alcohol and working to put in some effort to live a better and a faithful lifestyle. As I watch them fight against their addictions, I can truly feel God¡¯s work in our community every day.
If there is time, I encourage you and your church members to visit my reserve one day to see for yourselves of the changes that¡¯s occurring here. It is my hope that one day we will all together see how the community is changing.
Due to many hardships we faced during the year of 2015, I also would like to apologize for the lack of contact and communication that I had made. Please continue to pray for us. I ask that you will all continue to pray that in the New Year of 2016, there will be growth in our Grassy Narrows Church. We will also continue to pray that the Parry Sound church will be filled with God¡¯s blessings and grow as a good church that will expand God¡¯s kingdom.
This summer, I hope to visit your family and the Parry Sound church to update and share about our ministry. Please pray for us about this and thank you and your church for your support and help in expanding God¡¯s kingdom. We love you. Shalom.
God bless you.
From Paul in Grassy Narrows
December 2015
I would like to update you with our family here in Grassy Narrows. As I mentioned last time, my daughter Grace is staying with us here, in Grassy Narrows now that she graduated. Since there is still no news from the immigration office about my daughter and our visa, she is here helping us out with Sunday School and had also started Girls club with the girls in our community that is keeping her busy for now. We are in continual prayer about our visas and also for God's guidance for Grace's future.
As for our church, ever since my daughter returned, lots of children had been showing up for Sunday school and we are starting to see new people show up for church as well. We are thankful to see that God is working and listening to our prayers.
Please continue to pray for my daughter Grace and for our ministry here in Grassy Narrows.
August 2015
We are also doing well, we currently have a couple visiting us from Boston staying with us for a week to do some bible study sessions with our church members.
As for our visa extension, there is still no updates from the immigration office, we are still in prayer and waiting patiently for it. The same thing goes for our daughter Grace.
April 2015
Hello my Brothers and Sisters in Christ,
This is Paul Lee from Grassy Narrows, Canada.
I would like to remind you that your prayers are truly causing a revival here in Grassy Narrows.
I thank you and bless you for praying for my community and I believe and know that this all contributes to the expansion of God's Kingdom.
I have some prayer requests that I would like to share with you:
1. Please pray that my church members will have the faithful determination to read through the Bible at least once this year.
2. Please pray that through Daily Morning Prayer, many people will be able to escape from the snares of alcohol, drugs, gambling, and sexual immorality.
3. Please pray for the prayer warriors that come out to Morning Prayer: Bill, Norman, Jason, Delbert, Gary, Glenda, Rosalie, Bridgette, and Darwin. Please pray that they will be able to stand firmly on the Word of God and live their lives by spreading God's love and His word.
4. Please pray for the children and youth of this community, for them to have a vision and hope for the future. Currently, there is a girl's club every Tuesdays run by a Christian American lady named Debbie, and she is working with our church members to provide a Christian program for the girls. Although not many children attend, please pray for this small group so that they may grow strong in God's word and deliver God's message to their friends.
5. Please pray for my wife and I to continually grow spiritually, so that we may have the strength to serve the church.
6. My daughters, Grace and Gloria, are not able to apply to professional school (Dentistry and Medical School) after graduation because we do not have permanent residence. Please pray that God will work through this issue so that they can fulfill their dreams and to use their talents for the glory of God.
7. Please pray for my son, John, for him to grow healthy and for him to truly realize what it means to live for God.
Thank you my brothers and sisters for your prayers and support. I love you all in Christ. Please continue to pray for my ministry and for my family. Thank you once again.
Shalom,
Paul (EunSik) Lee
Dear Brothers and Sisters
Merry Christmas and Happy New Year. My family and I have lived this year through the grace of God and your love. The love and support you have shown us enabled us to experience God's love and miracle every day. We bless all of you with God's love.
I can't believe 2014 has passed already. It is through your continuous love and support that allowed my church in Grassy Narrows to grow and develop. However, there are still some areas where problems exist. The issues with alcoholism, gambling and sexual immorality is still taking control of the people of this community. Since they have struggled with these problems for a long time, it seems impossible for them to overcome it in a short period of time. Therefore, they fall down easily when faced with temptation. I am truly thankful to God for bringing each one of you to help in my ministry and to help the people here fight against their addictions through God's love. I believe it is part of our mission to not only work within our own churches but to help troubled churches around us so that we can all work together to expand God's Kingdom with the heart to love and serve God. I ask for your continual prayer and support for this church is Grassy Narrows to become strong enough in faith so that the believers here are able to go out and share the gospel to other communities as well. There are a few people who have the spiritual awareness that they must go out and share the gospel with the people around them. I ask for continual prayer for spiritual revival in this community. I pray that you and your family will be filled with God's grace in 2015. I ask in the name of the Lord for each one of us to help one another and love one another, as brothers and sisters in Christ, so that we may prepare together for the day the Lord will return.
I truly thank Beacon Baptist Church, Pat and Nadine, Parry Sound Fellowship Church, Phebe and family, Trenton First Baptist Church, Joe, Waynesboro First Baptist Church, Pastor Al, Neosho Northside Baptist Church, Kent, Boston Onnuri Presbyterian Church's Deacon Koo and his wife. We love you all and truly thank you. Please continue to pray for us.
Merry Christmas and Happy New Year.
God bless you.
October 2014 Letter from Eunsik (Paul):
Hello my loving brothers and sisters.
First, I would like to greet everyone in the name of the Lord. God knows well of all of your pains and efforts. Due to your prayers and support, Grassy Narrows is able to grow with God's words. This year Joe and his church members, Pastor Al and his church members, Kent and his church members, Korean church members from Waterloo, a couple from Boston, and Debbie and students had came up here during the summer for ministry. Pat and Nadine was also here with us at Grassy Narrows for a few days and currently we have Joe, Bill and Dennis visiting us in Grassy Narrows to help cut firewood for the winter for our house and our church. I can't express how thankful we are.
I am continuing to pray to this day that Grassy Narrows will eventually become a Christian community who will have many missionaries and preachers through these faithful and precious people. I also ask for more prayers as co-workers in faith that this will become possible in order to expand God's kingdom.
My family and I won't forget the hard work that everyone had put for Grassy Narrows and I would like to thank you for praying for my community. I don't doubt that God has many rewards waiting for everyone for your work. I pray that your churches and families will be filled with God's grace and that our faithful brothers and sisters will be continuing to serve the Lord until the day that Jesus returns to this world.
I love my brothers and sisters.
God bless you
July 2014
Grace has finished her 3rd year pre-med and has been selected to attend a special course at Kingston at the end of this month. I understand that only 10 students were selected from Ontario Universities.
Gloria has completed 2nd year pre-med and is currently taking summer courses in Toronto.
Paul has taken 2 seminary courses over the winter and just needs 1 more to complete his Masters. John received awards at school this spring for Math (100%), and Leadership. Esther is the glue that ho;ds them all together. Paul had over 30 children out to a VBS this past week and his ministry is slowly making significant changes on the reservation. He is highly regarded among the people.
Your continued support will make a big difference. They are needy and rely totally on the Lord to look after their needs.
God bless you,
Pastor Pat Armstrong
May 2014
Dear Brothers and Sisters in Christ,
I apologize for updating about my ministry so late. I have been very busy with my studies and ministry. I will complete my seminary studies for this semester in the first week of May. If I take one more course in the fall, I will be able to graduate.
I am very thankful for the Mission Teams that have decided to come to Grassy Narrows to serve God in this place. I very much look forward to your coming, and I pray that God will use each one of you to expand His Kingdom and for the people here to learn more about God through you.
There has been many ups and downs in the community. This winter has been very long. A few people passed away this year from sickness and alcoholism. Last week, a community arena that had been built only 2 years ago burned down and many people have become discouraged. There has been many complaints and discussions as to why there has been many community conflicts. I pray that the Mission Teams will show God's love to the people here, especially to the children. The children of this town are under heavy influence of alcohol and other addictions.
My daughters are back home from university and will help with the ministry until July. As our daughters continue their education at their universities, please pray that God will be able to support us financially for their schools so that there won't be any interference in their studies.
We have been continuing with Morning Prayer, Bible study, and movie night fellowship. We changed our morning prayer time to 6am from 6:30 am. Our average weekly attendance for Sunday service is about 30 for adults and around 10 for children. Esther leads Sunday School for the children, and she is continually serving lunch and leads Sunday worship.
This summer, five teams are coming to Grassy Narrows: Missouri Trenton team, Missouri Neosho team, Georgia Waynesboro team, Winnipeg Korean team, and Boston Korean team. God has truly blessed our ministry in Grassy Narrows with these amazing team. I pray that God will guide you in your preparation and I will pray for your travels, preparation, and your work when you come.
Please continue to pray for my family, Grassy Narrows, and my ministry here.
Thank you for your support and prayers.
God bless you,
Paul (EunSik) Lee