Mike and Ruth Butler
Papua New Guinea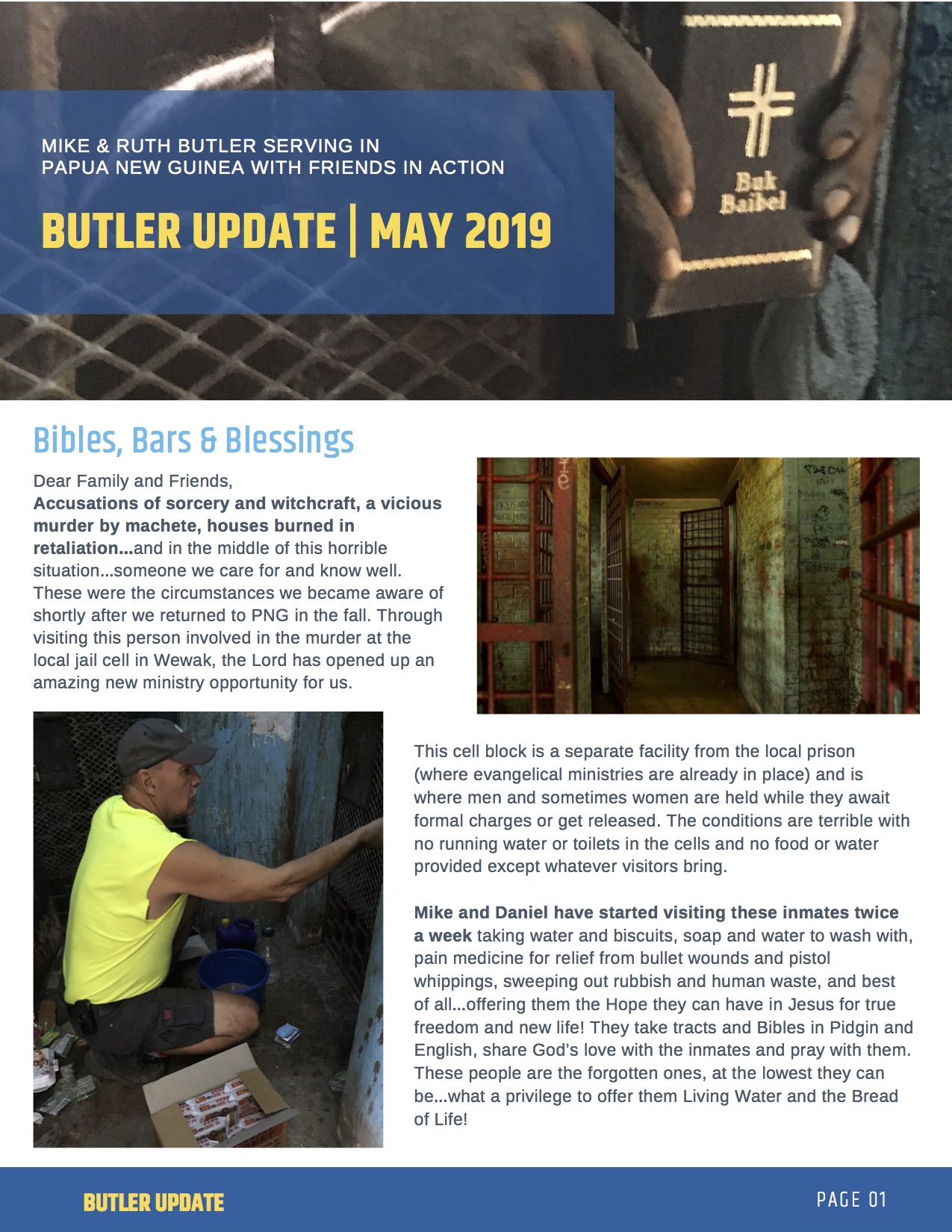 Tanks & Thanks!
Mike & Ruth Butler - Papua New Guinea - October 2018
Dear Family and Friends,
We're very glad to be back in Wewak again for another season of life and ministry here. It's always hard to leave our family in Canada, but we're so happy to come back to our PNG family, and of course Kristin too! Lord willing she'll be joining us for Christmas and New Years and that's always a highlight for us all. We love serving in the same country!
Some highlights and praises from before we left Wewak at the end of May:
- Mike and Jen Paton's time with us in March/April was a great learning experience for them, and our national workers were thrilled to see Mike again with his new wife!
- safety for Mike on an emergency service call to help a missionary get a runaway tire back on his truck; on the return trip in the dark on a "horrendous" road (his word), his headlights stopped working…using the flashlight on his cell phone he was able to strip the wires and improvise a new way to make the headlights work again : )
- installation of three 3000 gallon water tanks hooked up to our new warehouse roof extension; that's a lot of rain water that we and our workers benefit from as town water is very unreliable and also costs us to use
- productive time in the bush for Mike and Daniel helping missionaries replace their rotting house posts due to frequent flooding in their village; mounting them on concrete forms reinforced with rebar will help the new posts last much longer
Some highlights and praises from our time in Canada:- safe travels, work accomplished at our home, good visits with friends and supporters, licenses renewed, medical and dental appointments taken care of including another clear cancer check for Mike, praise the Lord! -
the opportunity for Kristin and the two of us to help at our home church's Day Camp; Mike with games and Kristin and I with snacks…so fun to serve together like that!
- helping with the logistics of sending an FIA container to Nicaragua with docking materials for an island ministry there
- a very beneficial course Mike took to become a certified solar technician…he learned a LOT!
-WONDERFUL family times and so many special memories made with Sol and Eva : )
- simple pleasures of sight, sound, smell, taste and touch; the sight of just trees and deer outside our windows, the sounds of cows and sheep instead of trucks and equipment, the familiar smell of our fresh cut field, the delicious taste of juicy ripe cherries, and the feel of Sol and Eva's sweet soft faces and kisses :)
Some highlights, praises and prayer requests as we settle in again:
- our workers did a great job taking care of things in our absence and were a blessing to many missionaries with their timber needs as well as other practical assistance; we are so blessed with faithful workers who have a good understanding of our purpose for being in PNG!
- beautiful flowers arranged by Daniel's wife, Jullien and a sweet note from our workers waiting for us in the house when we returned; "Welcome back Ruth & Mike!! We're glad you're home safe. Much, much welcome!! Mipela amamas yutupela stap wantaim mipela gen. (We're happy you two are with us again.)" So special!
- we're thankful for timely and fairly efficient service to drain one of our septic tanks a few days after we returned; a positive outcome to what could have been a nasty problem!
- please pray for continued good health and the energy we need for serving in the heat and humidity here; we still prefer that to cold, snow and ice though!
- please pray for the timing and logistics to help bush missionaries with tractor repairs and water tank installation; remote service calls Mike and are workers will be involved in
- please pray for the government of Papua New Guinea; education and medical services are two big areas that are very lacking here and these affect most people in major ways
Some days it can seem like a bit much when we look around at all the repairs and projects that need our attention but we remind ourselves that it's the Lord's property, His equipment and HIS work that we're involved in here. We rest in that and are so thankful that He continues to give us the strength, energy and wisdom we need for each day!
It was also really encouraging to receive a note from some bush missionaries expressing their gratitude for "all FIA has done to help us make much of Jesus" in their tribal location. What a beautiful perspective of our ministry here…we just love that!
We feel very blessed to be a part of so many different tribal works as well as town missions and are so grateful for YOUR part in all this with us! Making much of Jesus…that's what it's all about!
With our love and grateful hearts,
Mike & Ruth
mikebutlerpng@gmail.com
Friends in Action Intl-Canada
27 Long Stan Stouffville ON L4A 1P5
905-642-9531 office.fiac@gmail.com
www.fiaintl.org
Dear Family & Friends,

Have you ever had trouble with your printer not working? How about your photocopier? Maybe generator issues? Well, we've experienced all of those things and what they all have in common is something you might be surprised at. Lizards! They're called geckos here and they are EVERYWHERE…including inside the above mentioned equipment. They tend to like dark warm places and as a result one was the cause of a recent major repair job on another mission's backup generator.

A technician from the US came over with the needed part and it was quickly discovered that a gecko had gotten inside between the contact terminals resulting in shorting out the generator circuits. That was one expensive gecko! The repairs were done very quickly and we were blessed with the technician's help with our own generator and electrical needs for the remainder of his time in PNG…thank you John!

Life here in PNG has been full as usual over the last few months so we thought we'd just highlight some things we've kept busy with. We praise the Lord for good health, strength and safety for us and our workers in all this!
service call to the bush to assess upcoming repairs on missionary homes
emergency trips on the road to help with flat tires
major paint job completed in our house
wonderful times over the holidays with Kristin…SO blessed to serve in the same country!
4000 kgs (8800 lbs) of mixed hardwood cut and shipped to the Highlands for NTM building projects
timely arrival of the 20' container while Kristin was with us; her supplies were all flown to the Highlands and in her house when she flew back after Christmas : )·
safety when the container was dropped off ; just a little heavier than the forklift driver thought!
installation of a new satellite internet system; lots of scaffold work
engine replacements for 2 bush airstrip lawn mowers
year-end government paperwork for our workers and reports for our mission HQ

lots of opportunities for hospitality and cooking
a visit from our co-workers, the Montei family; they're doing well!
| | | | | | | | | |
| --- | --- | --- | --- | --- | --- | --- | --- | --- |
| | | | | Many of these things were accomplished with us being "in an impolite condition of perpetual drip", as a veteran missionary to India in the late 1800's put it. : ) While we don't particularly enjoy the intense heat and humidity of living in the tropics, it does make us very thankful for our ceiling fans and backup generator, (so helpful with numerous town power blackouts) as well as the beautiful orchids and rare pineapple we enjoy from our own yard! | | | | |
We're so very proud of Daniel and Jullien as they're both doing very well in their respective areas of learning. Jullien is working towards getting her Aid Post Orderly Training which will be a huge benefit in their village as there is a fully equipped medical clinic there with no one to run it. In preparation for that training she needs to complete grades 11 and 12. She recently finished grade 11 and received the highest marks out of over 4,000 students!

Daniel also did very well with his first course, "What the Bible Teaches", and also received the top grade! Next for him is "Bookkeeping" then "Business and Management" and he's really looking forward to the challenge of these courses.
Daniel and Jullien are just like family and Mike and I are so happy we got to share in the birth of their new baby at the end of January. A sweet little girl born on January the 26th, weighing nearly 7 pounds. : ) Mike kept Daniel company in the waiting room and I had the amazing blessing of being right with Jullien through her labour and delivery. So special!

They don't typically allow the fathers or anyone else to be with the mom, so I feel beyond blessed that I got to be there when this precious little one made her entrance into the world. We're excited to be able to be "Mimi and Pappy" on this side of the world until we're back in Canada with sweet Sol and Eva…who just celebrated her 1st birthday!
As we come to mind we'd appreciate prayer for the following:

safety and a productive time for Mike as he travels to Vanuatu later in February to assess FIA's equipment in preparation for a new couple starting to serve there; IF we're able to book his in country flights…Air Niugini is presently undergoing booking issues
Mike & Jen Paton, a young couple from our home area coming in March/April to help with the work here with thoughts of future involvement
our workers and their families; their spiritual lives as well as the challenges of their physical lives in their villages
wisdom and discernment to use our time wisely as we have a lot of projects and work to do plus other opportunities to help that we sometimes need to say no to
a major computer changeover involving our bookkeeping system
the many missionaries we serve in different stages of ministry; some discipling new believers, others teaching literacy in preparation for presenting the Gospel, some deep into language and culture study and others getting ready to build and move into their jungle homes

We're so thankful for how the Lord has blessed us and brought us through another year. We trust Him for all that's ahead in 2018, and are encouraged as we remember that "We don't know what the future holds but we know WHO holds the future."

Your part in our lives and ministry continue to be such a blessing and encouragement to us. Thanks for standing behind us so faithfully all these years and we wish you many blessings for this coming year!

With our love and grateful hearts,

Ruth & Mike
Mike and Ruth Butler, Papua New Guinea
Dear Family and Friends,
We had a very busy but wonderful time at home in Canada and while we do really miss our family there, we're very glad to be back to our home and family here in PNG. The work at our house in Canada is pretty much done now and just in time for us to start working on our house here. : ) After 14 years it's in great need of a major floor repair due to some termite activity. It also really needs a fresh coat of paint and due to the mold we fight here this is also a fairly major project.
We are so pleased with how well our workers did in our absence over the summer,
including handling some huge timber in the woodshop which required the skid steer to get it in place on the sawmill! They kept busy building furniture, sizing timber and keeping the grounds in great shape. : ) We're going to start training one of our woodshop workers in the welding shop and look forward to seeing how he does with that new skill. Daniel did a stellar job with keeping track of the financial end of things while we were gone and we are very encouraged with that! He has started some courses to upgrade his education including a course in bookkeeping/economics and we can see this being a real benefit to Friends in Action in the future. His wife Julien is also doing correspondence studies and we just found out the other day she used to manage the inventory for a parts supplier in town. We didn't know that and you can be sure we're tucking THAT little tidbit of information away for future use!
PRAISES:
great family times over the summer including an early birthday celebration for Kristin and Sol the night before she headed back to PNG on July the 17th, also our 35th anniversary, so special!!

getting to know Sol and little Eva; even though we're not in Canada all the time, the quality time we get to spend with them each summer is SUCH a blessing!

Jordan and the great help he was getting the 20' container on its way after we left when it was unavoidably detained…so thankful for our property and workshop so we could store supplies and load the container all at the same place

good results from a number of different medical checkups for us both, including another clear cancer check for Mike, thank you Lord!

our faithful national workers; the help they are to us with so many projects and also the opportunities we have to invest in their lives spiritually and with training them in new skills
PLEASE PRAY FOR:
the timely arrival and clearing of the container which is due in country on December the 17th

good time management and wisdom as we balance house and base projects as well as the many needs of the missionaries we serve

a couple from our home church who hope to come in the New Year to help us install the new flooring

safety and good health for us and our workers; lots of heavy equipment operation, working on scaffolding and all in a very challenging and draining climate

upcoming work on our 6 x 6 truck, building and generator maintenance at the Christian Radio station, generator, chainsaw, and outboard motor repairs and of course the bookkeeping that goes along with all that!
A good friend of ours also in a support ministry here in Wewak shared the following thoughts that we really appreciate. He shared how the people and missionaries we serve are like tomatoes and we are the sticks that hold them up as they grow. Our job is not to be tomatoes, but rather to support and encourage THEM as they grow and develop to their full potential in the ministries the Lord has called them to. We like that analogy and would appreciate your prayers that we will be strong and steady sticks for the many tomatoes the Lord has blessed us to support here!!
With love and grateful hearts,
Mike & Ruth
mikebutlerpng@gmail.com
Summer 2017
Comings and Goings
Mike & Ruth Butler - Papua New Guinea
May 2017
Dear Family and Friends,
Right when I was working on this update Mike was on a
run to the river with the big truck. First he had a flat tire then he had trouble with the air brakes. He finally got to the river, about four hours later than planned. The bonus of that delay was a beautiful Sepik River sunset on the way to the village. On his return trip he ran into some major problems and ended up driving back to Wewak with the rear axle chained to the truck frame. : ( Certainly not the trip we'd been expecting, but so encouraging to know that when he left the base the Lord already knew what the trip was going to bring, the challenges he was going to face and would give him the strength, wisdom and people to help handle it all!! We continue to see God's faithfulness in these serious situations and also His care over us in the little details of everyday life. He's a good good Father!!
VISITOR COMINGS AND GOINGS:
· The family and Canadian FIA board member we mentioned in our last update came and went and were a big blessing with projects on the base. We were especially thankful our board member had the chance to see firsthand what the Lord is doing here!!
CO-WORKER COMINGS AND GOINGS:
· The Brubacher family has moved back to Canada. "Jay's cardiologist and doctor were concerned about how his body was adjusting to the climate in PNG and so we made the decision (along with our Board) that it was wise to return to Canada. We plan to remain involved in the mission of church building in PNG as the Lord permits." They're really missed here but we're looking forward to seeing them back in Canada!
· The Montei family is moving in July to the NTM base in the Highlands due to their boys' education needs. They'll be missed too but still plan to make trips back to Wewak as school schedules allow. We know Brian is going to be a great blessing there with his practical skills.
OUR COMINGS AND GOINGS:
· The last two trips to the river were anything but uneventful as there were flat tires on both trips as well as major mechanical problems. But building materials were still delivered and Mike was still able to make it into a remote village to work on an airstrip tractor. It took about eight hours for the 100 mile trip to the river and then a two hour boat ride to the village. NOT your average "service call"!!
· We spent 10 days in April with Kristin…very fun and also very convenient for Mike and his help with NTM's mechanical needs as their workshop is just a short walk across her back yard. : ) He worked on their backhoe and skid steer and also shared
at Chapel for the 7th through 12th graders. I needed to see the doctor and that went well plus I spent some time in Kristin's class one morning. I couldn't believe how much those little kids are learning in grade one…and LOVING it!! Why else would you hear a seven year old yell, "Yay math!!"?! : ) It is SUCH a blessing serving together in PNG!
· We're travelling to Canada with Kristin at the end of May and we all have a lot to do in preparation for that. For us it's planning ahead for projects and materials as well as paperwork for our work permit/visa and 3 year mission plan renewals. The highlight will be meeting our new granddaughter, Evangeline April Butler, Eva for short, born January the 28th!! : )
PLEASE PRAY FOR:
· our national workers as they'll be overseeing the base for a couple of months once the Monteis move; please pray especially for Daniel as we're training him in some administrative responsibilities before we leave…it's encouraging for us to see his enthusiasm for this!
· the Montei and Brubacher families as they all adjust to the changes in their lives
· the missionaries we serve in different stages of their ministries; some getting settled into their new bush homes preparing to start language and culture studies, others getting closer to presenting the Gospel, others serving in support roles in town...we're all a team together!
· Kristin and the two of us as we prepare to leave for a short time; that we would accomplish what's necessary and finish well
· good time management in Canada until the beginning of September; time with family, medical appointments, work at our house, shipping supplies to PNG, sharing with churches & supporters
PRAISES:
· the safe arrival of little Eva; we are SO excited to meet her!​
· safety for Mike and others during the recent situations with the big truck; bad roads in such remote surroundings make flat tires and mechanical issues even more challenging…no typical roadside assistance to call but a truckload of people were a big help with the most recent flat tire
· the special time we had in the Highlands with Kristin and all we accomplished there; definitely a multipurpose and very productive trip!
· seeing God's hand in the details of the changes in our co-workers' lives; so thankful we all have the peace and confidence that we're ALL right where the Lord wants us in this season of our ministries!
· our faithful national workers willing and able to look after the base while we're gone; they've done this before for even longer so we think they'll do just fine : )
· safety during construction of the warehouse roof extension; a huge project in our base plan for years and now completed in God's perfect timing!
I'd had the title of "Comings and Goings" in mind for a while now and our Canadian co-workers shared a verse in their recent update that's great for us as well. Psalm 121:8 "…the Lord will watch over your coming and going both now and forever-more." We praise Him for His care over us and for YOU…faithfully partnering with us through all our comings and goings. THANK YOU!
With love and grateful hearts,
Mike & Ruth
mikebutlerpng@gmail.com
Friends in Action Intl - Canada
27 Long Stan Stouffville ON L4A 1P5
905.642.9531 office.fiac@gmail.com
www.fiaintl.org
Friends In Action Intl - USA
Box 323 Elizabethtown PA 17022
717.546.0208 FIA-USA@FIAintl.org
This message was sent to phebenian@gmail.com from:

Mike Butler | mikebutlerpng@gmail.com | Friends in Action Intl-PNG | 99 Beaver Meadow Road | Port Sydney, ON P0B 1L0, Canada

Email Marketing by
Dear Family and Friends,
Our time in Canada went by very quickly and so have the last couple of months here in PNG. As always it was very hard leaving our Canadian family but we're thankful to be back with our PNG family. : ) As we wrap up 2016, here are some highlights from the last few months that will hopefully give you an idea of what you continue to be a part of with us, in both our Canadian and PNG homes.
Looking back:
· a wonderful time and great weather for our motorcycle trip visiting friends and supporters; only a bit of rain which resulted in a beautiful double rainbow accompanying us for about 3 hours. (see photo at bottom)
· lots of work accomplished on our house project; Mike arranged for contractors to finish the interior and electrical work, landscaping, put up the siding, and install the heating system. The work is almost all done and the new addition passed the building inspection!
· an unexpected opportunity in August to help load a 40' FRIENDS' container heading to Africa to help with well drilling and food distribution
Simple pleasures at home:
· good ice cream, cherries, berries and veggies of all sorts, BACON!
· walks with Solomon picking flowers, raspberries, collecting pine cones and blowing bubbles : )
· operating equipment with Solomon "helping" to drive
· not sweating!
Looking forward:
· a family coming mid-February for about 6 weeks to help with base and bush projects
· one of our Canadian board members is coming to PNG to help with an electrical project in another region and is starting his trip with a week in Wewak with us...very exciting for us!
· a trip to the Highlands to visit Kristin and help with NTM's vehicle and equipment needs; we were there in November doing the same and were able to help Kristin move to a different house…so fun to be with her in her Highlands' home!
· office and shop work, ongoing devotions with our workers, building relationships and building furniture : )
Looking up!
My Mom had a series of strokes on November the 21st and went Home to be with her Lord and Saviour just a few days later on the 26th. We're so very thankful she didn't linger on and suffer a long time. So it's a new season of grieving the loss of my wonderful Mom, but also rejoicing as we think of her in Heaven, perfectly healthy, gloriously happy and more alive than she's ever been before.
As believers we're so thankful for the hope of Heaven we share and knowing it's not goodbye but "see you later!" We're also so very thankful for the special times we shared together when we were home this past summer.
Please Pray for:
· safety on timber runs, supply trips to the river and just simple trips to town; lots of rain means rougher than usual roads and unfortunately this time of year also means more drunk drivers
· time for Mike and I over the holidays to get caught up on office work and projects around the property as well as getting some physical rest
· all to go well with the delivery of our new little grandbaby around mid-January : )
· all the missionaries we serve but specifically two new NTM teams we're partnering with; missionaries moving back into a tribe after a number of years of no one living there and also a new work opening up in a very remote location accessible only by helicopter or hiking
· many people including some we know, for whom this time of year is particularly difficult due to various reasons…please pray for comfort and peace at this time
Praise for:
· safety on recent timber runs; especially dealing with pieces of timber weighing up to 700 pounds!
· safety on recent supply runs to the river; the last load was around 9 tons of supplies including about 180 bags of gravel for mixing concrete for a village medical clinic as well as bags of pig and chicken food : )
· having part of our family here in country; Kristin will be joining us for Christmas and New Years…so blessed!
· lots of opportunities to serve town and bush missionaries as well as the two new NTM teams; getting batteries for solar set up, helping with floor plans and our portable sawmill, and assisting with the logistics of moving into their jungle homes…thank you for YOUR part in serving all these missionaries with us!
· our crate arrived in good time with hardly any drama…a nice change from other shipments
· the birth of our Saviour; an amazing gift to celebrate each and every day!
Your partnership in our lives and ministry continues to bless and encourage us daily. Thank you for faithfully standing behind us there so we can be here!
With love and grateful hearts,
Mike & Ruth
mikebutlerpng@gmail.com
Summer 2016
Dear Family and Friends,
As you can see by the picture we're back in our Canadian home and are so happy it worked out for us to have a two week overlap with Kristin before she headed back to PNG. She's now teaching full time with NTM and busy preparing for grade one. Jordan, Faith and sweet Solomon are all doing well and a new little baby Butler is due in January!!
Lord willing we'll be here until the end of September and as we come to mind over the summer here are some praise and prayer items for you to keep in mind. We so appreciate your faithful prayers for us…they are a huge blessing and keep us going whether it's in the heat and humidity of Wewak or in the cooler Canadian climate. : )
Praises:
back in Ontario for a few months and loving our family times :) We absolutely love being Mimi and Pappy and getting to know Solomon!!

the little guest house we are staying in is a peaceful oasis for us in the midst of our busyness :)

the blessing of our home church, good friends and supporters and the opportunities we have to share what the Lord is doing in PNG

a number of medical tests taken care of and good results from all including Mike's cancer follow up-Praise the Lord!!

the opportunity in August to be at the open house and dedication for the new Friends in Action headquarters building in Pennsylvania-also connecting with supporters and sharing at one of our churches

an easy fix for our car after getting hit in a Walmart parking lot especially since the other driver didn't stick around-it was my birthday and ended up with me riding home in a police car…definitely my most memorable birthday! Part of the repairs involved zip ties…love it!!
Prayer Requests:
for Mike & I to get some much needed rest as we are kind of run down and both got sick with infections on our way home. A trip to a walk in clinic in Vancouver for antibiotics wasn't on our list of things to do there! We're feeling better now and getting some help so we can head back to PNG in better shape than we left!

my Mom is not doing well at all mentally so prayers for our family as we walk this road with her are very much appreciated! So thankful for the hope of Heaven we share!

work still to be done at our farmhouse-Mike's busy bulldozing dirt piles and we still have siding, shingling and flooring to take care of as well as some electrical and interior finish up. Please pray for the help, finances and time we need to get all this done over the next couple of months. We really want to leave this project COMPLETED before we leave!

the Monteis and Brubachers with the busyness of FRIENDS' ministry in Wewak as well as our national workers and their families

PNG supply buying and loading a CRATE to send back to PNG. NO containers this year!! : )

safety as we travel to the US in August as we'll be going by motorcycle and will be on the road for a couple of weeks-we are really looking forward to that!!
We are SO thankful for the Lord's faithfulness in our lives and as we look back over the last five years it's amazing to see all He has brought our family through. At this time five years ago Kristin was just over a year into widowhood and finding her way in that difficult journey, Jordan and Faith were starting their married life together and Mike had just been diagnosed with cancer. Life for us all was full of new experiences, unknowns for the future with joy and sorrow sprinkled through it all. Now looking back we can only stand in awe of all the Lord has done and continues to do in all of our lives. Kristin is in a place of joy and fulfillment in her life and Jordan, Faith and Solomon are a happy little family of three, soon to be four. As for Mike and I…other than being a little tired we are healthy and looking forward to heading back for our 19th year in PNG. WOW…great is His faithfulness!!!
Thank you so much for your part in our lives and through that, the lives of so many people in PNG. Eternity will reveal the impact of your partnership with us as we worship the Lord together with believers from tribes all over PNG. THANK YOU for allowing us to be your representatives in the tiny little part of the world that we also call home.
With love and grateful hearts,
Mike & Ruth
March 2016

Containers, Trucks & Paperwork
Update from
Mike & Ruth Butler in Papua New Guinea
Dear Family and Friends,
Thanks so much for your prayers over the last few months since we've returned to PNG. We went from loading containers and construction on our house in the cold of Canada to unloading containers and building projects in the heat and humidity of Wewak. : ) That can be very draining some days but we'll still take the heat over the cold! Other than being tired we're staying healthy and praise the Lord for that and the energy and strength He gives us each day to keep going!
Praises from our time in Canada:
- progress we made on our house project at home;
big thanks to those of you who were a part of that!
- special times with our whole family all together; including Solomon's dedication and first birthday…sure do love that precious little grandson of ours!! : )
- final supply purchasing and loading the 40' and 20' containers; big thanks to all who were involved in that too!
Praises in PNG:
- a mechanic friend from Canada came for 5 weeks to help with truck repairs; main one was changing the brakes on the big 6 x 6 truck from hydraulic to air brakes…HUGE job, thank you Norm!
- good first road trip after the repairs; 5 hours to the river with missionaries' supplies and water tanks headed for a medical clinic at a remote mission base
- new co-workers with the arrival of the Brubacher family; Jay is taking our workers to a whole new level in the woodshop!
- arrival of the 40' container and safety while unloading; praise the Lord for the provision of a donated sawmill for the mission base where the tanks went to as well as a Volvo loader donated for the FIA base here! : )
- donation of a solar projector for village outreaches; Daniel shared that he had very good response over New Year's when he showed the "Jesus" film in Pidgin
- the blessing and encouragement of these and many other donated items; not only to us but also our workers, the missionaries we serve and many PNG people
-safety on a recent timber run; due to terrible roads (including collapsing one!) what should have been a 4 hour trip turned into an 11 hour "long way home" adventure...beautiful scenery along with wild horses and water buffalo and our co-workers driving out with a drum of fuel...no gas stations along the way!
Please pray for:
- work still to be done on our house; including the unexpected need for a new furnace
- the timely arrival and logistics of clearing the 20' container; finally enroute from Canada after a number of delays-big thanks to people at home helping with this!!
- wisdom for increasing office and administration work; government requirements, fluctuating currency rates, ordering repair parts and project planning keep us busy…and a little brain-dead some days!
- our workers and our relationships with them; morning devotions with the guys and Bible study twice a week with Esther
- safety working on base projects; including the high warehouse roof extension, woodshop projects and moving containers, lots of equipment operation and heavy building materials
We're very aware that what we're doing here in PNG is a team effort. Your help with our house, containers, donations of supplies, financial partnership and faithful prayers keep us going with mechanical repairs, timber runs and building projects as well as reconciling bank statements, doing payroll and paying bills. :) It's all part of reaching PNG people with the Gospel and we couldn't be here without you!
"I thank the Lord every time I think of you." Philippians 1:6
With love and grateful hearts,
Mike & Ruth
Please note our new Canadian mailing address and phone number:
Friends in Action Intl-Canada
27 Long Stan Stouffville ON L4A 1P5
905-642-9531 office.fiac@gmail.com
March 2016
Dear Pastor Rick and our church family in Parry Sound,

We can hardly believe it's March already...what happened to February?!
We're hoping to get an update sent out soon and have been trying for a while
to get it done but time restrictions and internet issues are making it
difficult. Hopefully soon!! The picture we're sending with this note was
taken at the Wewak airport...proof that we're really here!! : )

We want you to know how much we appreciate your prayers for us and your
financial partnership with us. It is such a blessing to have our church
family in Parry Sound prayerfully standing behind us and supporting us there
so we can be HERE! Thank you!! : )

The 40' container with equipment and supplies that we sent from the US was
delivered recently and that's kept us busy with unloading and organizing as
well as all the paperwork that goes along with that kind of thing! We're
busy as usual with repairs, timber runs and office work as always : ) and
other than being tired are staying healthy and are so thankful for that.

We send our greetings to you all with grateful thanks for your part in our
lives and ministry here!
Love Ruth & Mike : )
Hello From Ontario!

Well, we already knew we'd be juggling a lot of different things during this trip but another ball has been added rather unexpectedly. A crack in our basement wall where Jordan, Faith and sweet little Solomon are living has recently gotten very serious. This repair job has now moved from "someday" to "definitely this summer before the basement caves in!!" We also need to tear down the back entrance area and redo that with a proper basement and floor as that is an ongoing issue with heat loss and basement flooding. This involves major excavating, replacing the block wall, siding, roofing, new windows, etc. We feel our house is a real blessing the Lord has entrusted us with and we really need to take care of this as well as some other property issues while we're back. We're into the fourth generation of Butlers living there and don't want to be 10,000 miles away in PNG and have it caving in! So it's a ball we don't want to drop and we'd appreciate your prayers for safety with equipment and construction as well as the finances and time needed to take care of all this before we return to PNG in the fall. This unexpected work will give us more family and baby time though so we're thankful for that!

Praises:

· another clear cancer check for Mike-thank you Lord!!

· Kristin being with us for a short time and the blessing of our whole family being together including sharing in Solomon's dedication and first birthday…so special!!

· people already offering assistance with the house project with equipment and hands on help…we are blessed!

· the Brubacher family joining us; Jay's expertise with carpentry and construction will be a huge asset as he heads up the woodshop and the many building projects we have on the go

· the very day Mike was trying to figure out how to get the crates to the US the Lord was working behind the scenes, and that same night someone offered to purchase the 20' container we now need to send…plus He has already provided a buyer for it in PNG…we serve an amazing God who knows and provides what His children need at just the right time!!

We're so thankful for your faithful partnership with us that extends across the ocean to PNG and is such an encouragement to us whether we're in Wewak or back here in Ontario. It's a blessing to us, the missionaries we serve and many people in PNG. THANK YOU!!

A day at a time,

Mike & Ruth

Please pray for:

· wisdom for good use of our time as we work on the house/property issues and still enjoy special times with family, friends and supporters as well as fit in a few more medical appointments

· logistics involved with the 40' container heading to Wewak and strength for Mike for all the work; he's been to the US once to purchase supplies and will return in August to do the actual loading – please also pray for the volunteers who are coming to help

· due to US border/customs issues we're unable to send the crates for this container as originally planned so are now sending a 20' container from here; please pray for all those arrangements as well

· our co-workers in Wewak, our national workers and the projects continuing there

· our new co-workers, the Brubacher family, as they pack and prepare to head to Wewak for the next 2 years

PNG prayer highlight:

Please pray for our worker Daniel and his brother-in-law Joshua, as they do outreaches in their village and surrounding areas. Daniel asked for prayer as they face opposition when openly sharing the Gospel through regular teaching methods, so they've started a video outreach which is having some good results. Praise the Lord for Daniel's commitment and desire to reach his own people with the Gospel!
Bible, Building & Baby Dedications-Butler May 2015 Update
Dear Family & Friends,
These last few months have been FULL with people and projects, numerous supply trips to the river and flights for service calls in the bush. Outboard motor repairs and a road trip to the river to help missionaries get to their Bible dedication, building a tractor shed for national believers, kitchen completed for bush missionaries, plus a lot of vehicle and airstrip tractor repairs are just a few things we've kept busy with!!
Saturday April the 11th was a special day as we shared in the joy of the dedication of Laif FM's new buildings. This project for Wewak's Christian radio station has been a long and often challenging one but such a blessing to be a part of! To see it all dedicated to God's glory touched our hearts and humbled us, knowing that it was only through HIS strength that we were able to accomplish what we did. You can check out
UCB PNG Laif Fm
on Facebook for more details and pictures of this project.

Lord willing we'll be back in Canada for a few months this summer and will be able to be at the dedication for our grandson Solomon at our home church…another blessing to be part of, seeing this precious little life dedicated to the Lord. So thankful for the opportunity to share in that event as well as his first birthday in August…fun times ahead! Kristin will be with us too, so it'll be a great time for our family to be together after 2 years apart. : )

Funny things on the bus:
• realizing that the seats were covered with the same material as what I was wearing…I was definitely brighter!
• to avoid making other passengers move to let him off, the guy in the very back seat just climbed out the window!

Please pray for:
• our time at home; as always it'll be full with appointments, family times, sourcing out parts, and also loading a container heading to PNG
• Mike (3 month visit), and Fred & Carissa (2 month visit) back home now after their time in Wewak; that the Lord will clearly direct them as they consider future involvement in missions
• the town and bush missionaries we support; for encouragement and stamina as they serve in different areas and learn new languages and cultures
• our co-workers, Brian and Rachael & their boys; so glad to have them back : ) please pray for strength and wisdom as they're on their own here for a few months

Praises:
• 4 Bible dedications recently in tribes we've had a part in over the years in different ways; moving in missionaries and supplies with the barge, outboard, tractor and generator repairs, kitchen and furniture building…we love being part of all these different tribal areas!
• extra hands to help over the last few months with Mike and Fred & Carissa; lots accomplished with woodshop projects, vehicle and equipment repairs and organizing the FIA library
• safety; operating equipment, road trips, flights, ocean and river travel, plus times in the bush for supply runs and service calls
• good health and strength for each day over these last few extremely busy months; always unexpected challenges but God continues to be faithful through it all!

We love seeing Proverbs 16:9 in our lives, "Man plans his ways but the Lord directs His steps." Nearly 40 years ago Mike was ready to join the Canadian Navy but the day he went to sign up the recruitment officer wasn't there. Instead something else marine related caught his eye, a course to become a small engine & marine mechanic. The Lord opened that door which led to employment in that field, including operating our own business for many years. Now here in PNG he works on small engines and outboard motors all the time for missionaries serving in remote locations. : ) We loved an e-mail we received the other day from a missionary with some outboard questions. He said Mike is considered the "boat motor guru in PNG". That made us smile but also made us think back all those many years ago when the Lord put Mike on a different path than he'd been planning. We had no idea then how He would use that training to help build His church here in PNG…we love the way God works! THANK YOU for traveling on this journey with us!

A day at a time,
Mike & Ruth
February 1995 – Not a Typo! – Butler Update
Dear Family and Friends,
Yes, you read that right…in February of 1995 our family was in PNG for the first time, TWENTY years ago now! It was our first short term trip for 3 months when Kristin was 10 and Jordan was 7…hard to believe! We have so many special memories but the best thing that happened is that Jordan came to know the Lord as his personal Savior during that trip! We also toured the mission school our kids later attended and where Kristin is now teaching kindergarten. : ) There have been a lot of challenges and changes for our family over the years and we are so thankful for the Lord's faithfulness and care for us each step of the way.
Praises:
good results from my medical tests in Canada and so special to spend time with Jordan and Faith and meet our new grandson...LOVE that sweet little baby!!!

things went well for Mike while he was on his own; lots of woodshop projects, equipment repairs and vehicle breakdowns kept him super busy

great times with Kristin over Christmas…we feel so blessed to be serving in the same country and the special times we have together : )

my Mom went through some serious health issues but is now back home after 3 weeks in the hospital

safety with lots of heavy equipment operation as we handle project and missionaries' supplies; transporting generators, water tanks, timber and building materials for a village medical clinic

the good health the Lord has blessed us with and the opportunity to serve Him in 2015
Please pray for:
our workers; safety in the woodshop, operating equipment and their spiritual growth

wisdom and discernment as we assess needs and new projects; that we'll clearly know what to take on & the energy we need for it all!

strength and encouragement for my Mom as she continues to recover

wisdom with ongoing office work; bookkeeping, government paperwork, keeping track of parts & supplies in numerous currencies all help keep my brain cells active!

safety for Mike on service calls coming up ; two supply trips in the big truck to the river at different locations, boat run to Biem Island, flight to another location for generator work and also timber runs in the big truck

upcoming travels for a young man (Mike) from our home area coming to help for 2 months, our co-workers returning, a young couple (Fred & Carissa) also coming for 2 months – so thankful for help with the work here!
As we look back over all that's happened in the last 20 years, we're so thankful that the Lord never changes no matter what our circumstances are. That is such a comfort and encouragement as we're into another year with a lot of unknowns ahead of us. As we've shared before, "We don't know what the future holds but we know WHO holds the future!"
Thank you so much for the blessing of your partnership with us and the missionaries we serve…AND the people of PNG who are also blessed because of YOU!
A Day at a Time,
Mike & Ruth
September 2014
Question: What do mobile phones, razor blades, batteries, jigsaw puzzles, matches and Q-Tips have in common? – answer at the end of our update

Dear Family & Friends,

Thanks so much for your prayers for us over these last few busy months. LOTS to praise the Lord for…we're so thankful! Mike had a great time in Canada connecting with family and supporters and the Lord provided in amazing ways at the FIA fundraiser. Some of the funds raised are for our solar project on the base, switching from fluorescent bulbs to energy saving LED lights. This is already reducing our power costs! Funds were also raised to start an education co-op for school fees for our workers' kids. This is a big expense every year especially now as some of them are in college but what a great accomplishment for them! This will be an ongoing project beginning in January of 2015. Let us know if you want more infomation about investing in these precious young lives!

The radio station building project is getting closer and closer to completion. There are now four cabins on site; 2 for sleeping, 1 for an office and 1 for a kitchen and meeting facility. The shower/washroom building is underway. It's been a big and often challenging project for our 4 workers and Mike and Brian but one we're really blessed to be a part of. Laif FM reaches thousands of people and many are being impacted by the truth of God's word: "I have been addicted to drugs since 1978 – 2009. Thru Laif fm every day with the powerful Word of God and gospel songs my life changed completely. Praise God for Laif fm."

Mike spent a few days in the bush recently working on airstrip tractors. One location was the first airstrip we built in 1999 and it's always a great experience going back there. He got the tractor running smoothly again and saw a lot of friends as well as young kids we'd known before, now all grown up with families of their own. Many of these dear friends are now believers, very special. : )



Praises:
Solomon Frederick Butler, our new grandson!! Born on August the 15th, weighing 7 lbs 14.5 oz – we're so thrilled for Jordan and Faith and the gift of this precious new life : )
great trip back to Canada for Mike; cancer follow up clear for both him and his sister!
safety in the woodshop and at the project site for Laif FM; lots of equipment operation as well as working on ladders and on top of roofs
translations completed in a number of Sepik works and a Bible dedication coming up soon in a location we helped open with the barge - so exciting to see God's word in more tribal languages!
continued health and strength for all we have on the go here; so thankful for that!
Please pray for:
completion of the Laif FM project; final plumbing hook-up, gutters & water tank installation
our co-workers in the US for their 6 month Home Assignment (furlough) – we miss them!
ongoing woodshop projects and equipment repairs that keep Mike busy all the time
FIA's 3 Year Plan and our visa renewals to be processed quickly and our passports returned from Port Moresby so I can book my tickets for a trip home in October
Mike while he's on his own in Wewak and medical tests I need to take care of when I'm not busy loving on our new grandbaby!
We hope you're encouraged to read just a little bit of what you're such a big part of with us through your prayers and support. We couldn't be here without such a faithful team standing behind us and keeping us going. We like how friends of ours put it in their recent update, "We're in this together". That's so true and we're so grateful for you!!

A day at a time,
Ruth & Mike

Answer: They're all random items we've seen guys selling on the sidewalks in town…an odd assortment but at least it shows initiative rather than sitting around doing nothing!
March 2014
Dear Family & Friends,

We're never sure what a day is going to bring us and that was the case last month as Mike and Brian were involved in a medical evacuation of one of the Biem Island missionary families due to an accident with their 8 year old son. We're so thankful for the Lord calming the seas at a very rough time of year so that the float plane and Mike and Brian with the Biem boat were able to get the family off the island. The Lord was in all the details and after a few days in the hospital in Australia and final check up they had the all clear to return to PNG. As the boy's dad put it, "All in all 4 different mission organizations and a host of incredible folks, using 3 planes, 2 boats, and an ambulance got us to Australia in about 12 hrs." This type of situation is a sobering reminder of the challenges and logistics of getting medical help in an emergency, but it's also a wonderful example of the Lord's faithfulness, protection and His ultimate control over every detail of our lives. "…Even the winds and the sea obey Him!" Matt. 8:27

*see "Praises" below for an unexpected blessing that came out of this situation!*

We meet with Brian and Rachael over lunch on Fridays to have a team meeting and spend time praying together. We've noticed that safety for the guys and our workers each week is always something we're thankful for! This was again a big praise as we've been shifting a number of 20' containers around the property using our big truck and trailer, plus a forklift and crane from the local shipping company. Their equipment and way of operation is a little scary to watch so we praise the Lord there were no mishaps or injuries along the way. I am no equipment operator but even I know that it's not a good sign when one of their workers sits on the back of the crane the whole time holding a board in place to keep the very frayed cable from slipping out of place!

Last month Mike spent a day flying with MAF (Mission Aviation Fellowship) for some bush service calls to check out airstrip tractors that are in need of repair. He took a lot of equipment pictures and assessed the needs and will go back in with Brian at a later date with the necessary repair parts to get them going. He was also able to help some national believers get their HF radio working again so they could keep in touch with the missionaries living in Wewak. One highlight of the day was landing on the first airstrip we helped build 15 years ago. Another was flying over a coastal community built around an old WW2 Japanese airstrip, complete with the wreckage of an old bomber.

Town experiences:
excited to find oatmeal (hard to get lately) and saying to Mike, "It's the kind we like and it doesn't look buggy or anything!!" We eat it every morning and I use it for granola bars so I was just happy to find it and didn't mind paying the equivalent of CDN $9.50 a bag!

having a candy included with my change and being told, "Sori, nogat 5 toya", "Sorry, we don't have any 5 cent coins." Sure enough, the spot in the register for those coins was filled with little candies.

a national man wearing a shirt that said, "Keep watching…maybe I'll do a trick." Being a foreigner and the object of a lot of staring I thought, "I'm the one who needs that shirt!!"
Please pray for:
upcoming arrival of the container with the sawmill and repair parts for the base as well as supplies for other missionaries

logistics we're working through to send a container back to the US with missionaries' belongings and airplane parts for repair

timber runs and sawmill work for the Christian radio station housing project and getting the building permit; lots of red tape and time even though they're just simple cabins

strength and encouragement for Mike's sister as she goes through chemotherapy treatments and the side effects from those

comfort for my sister and her family as they deal with the sudden death of my 24 year old nephew in January caused by cardiac arrest due to an enlarged heart

upcoming boat runs to bring the 3 Biem missionary families to Wewak for NTM's annual conference then back to the island; extremely high winds these days and very rough seas

clear understanding and acceptance of the Gospel for Larry & Nigel; two new workers we've brought on to help with the radio station project
Special prayer request: Kristin has been dealing with a jaw problem over the last 4 weeks and can't open her mouth all the way or eat properly. The mission doctors have been trying different things to help but the situation isn't improving. As a result the doctor is recommending she see an oral surgeon in Cairns, Australia. The earliest appointment is March the 12th and she and Mike will be heading there together. Kristin said, "I would have asked you Mom, but Dad can drive us around...and he's better in a crisis!" That's true! So I've done my part by booking flights, accommodation, car rental etc. : )
Please pray for this whole trip, the expenses involved, her appointment and treatment. Please also pray for a quick resolution to the problem so they don't have to be away too long.

Praises:
great times over Christmas and New Year's with Kristin; thankfully her jaw and mouth were fine then as we ate lots of good food and special Christmas treats while she was here!

encouraging devotions with our workers as they finished the book of Romans which really seemed to help them realize their freedom in Christ as believers

Jordan and Faith gave us a great present on Christmas Day when they told us we're going to be grandparents in August!!

a dental clinic at the Wewak hospital and a capable dentist who was able to pull a tooth for Mike that was giving him terrible pain and problems; saved us literally thousands of dollars by not having to fly elsewhere in the country-total cost about CDN $8.50!!

safety in travel; on the road for timber runs, in flights for service calls, on the ocean for the medical evacuation and around our property with all the equipment operation

serving together in PNG with Kristin; always a blessing but especially now so Mike can go with her to Cairns to help with driving in an unfamiliar town & be a support to her during this time

*due to being in Wewak because of the medical evacuation the Biem missionary was able to have a translation check done for the second half of Romans, putting the whole book of Romans into the Biem believers' hands sooner than expected – God uses what He chooses to accomplish His plans!*
One of my Dad's favorite sayings was, "We don't know what the future holds but we know WHO holds the future." We're so thankful that nothing that happens in our lives is a surprise to the Lord, and along with the unexpected things we have to deal with He gives us the extra strength and grace we need. We're so grateful for your support and prayers for us in it all…we appreciate you so much!!

A day at a time,
Ruth & Mike